Custom formulations and product innovations are our specialties.
Green Spot USA was founded in 1934 with the mission to produce a quality fruit juice concentrate using only the freshest ingredients. Our first product, the ever-popular Orangeade, found success quickly. Additional flavors like grape, fruit punch and lemonade were soon introduced, and for more than 85 years, Green Spot has continued to invent and innovate.
Research and development has played a particularly vital role in the growth of Green Spot. Such new developments have included broadening the product line to include ice cream and frozen yogurt flavors, sherbet purees, juice concentrate blends, iced tea, citrus, mango and tropical punch concentrates, smoothies, coffee drinks, exciting new frescas and other quality products for the food and beverage industry.
As a trusted food and beverage manufacturer, we distinguish ourselves from the competition by consistently finding unique and contemporary solutions for our buyers' needs. We pride ourselves on world-class products and unsurpassed customer service. Let's create something together - contact us today!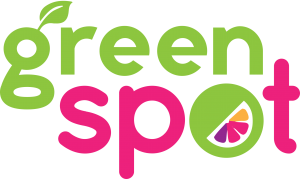 We invite you to taste the difference!
Green Spot has the capacity to blend large-volume batches, with a variety of industrial packaging sizes available.
Our research and development department will work closely with you to customize a new, exclusive formula or adjust a present formula to meet your requirements.
You can be assured that the blending and packing of your product is overseen by our quality control technicians from concept to creation. You have our guarantee that your final product will meet the high standards you expect and deserve.
Green Spot USA takes great pride in our certification from the SQF Institute. Our customers can be confident that their goods are produced to the highest possible standards.
TAKE A LOOK AT SOME OF OUR MOST POPULAR PRODUCTS...
From traditional lemonade to new and on-trend combinations, the possibilities are endless when it comes to our lemonade flavors!
Flavored coffee, iced coffee, lattes, espressos, cappuccinos... we offer flavor infusions for all your coffee drink needs.
From our fruit juices and iced teas to more contemporary frescas, we offer a vast number of flavor options and variations.
We love creating custom solutions for our customers' needs, and we thrive on turning vision into reality. From idea to implementation, we stand above our competition. Welcome to the future of the food and beverage industry.